Powerful cCommerce Shopping Website
Accept credit card orders and sell your products on your new powerful and great looking eCommerce website. Which will give you everything you need to start a successful online business, all at an affordable price. We use one of three world class CMS platforms, depending on your exact needs. Choose from two options below depending on the size of your business and the features you require.
1. For Small to Medium Sellers:
Modern eCommerce store with powerful features that work across desktop, tablet and mobile devices. A CMS website is one which you can manage and update yourself. You will have access to your site 24/7 through any PC with an Internet connection. You can change the content, text, images easily yourself afterwards if you need to. You can manage blogs, check form submissions or check your latest orders. It's as easy as point and click from the easy to use interface.
Designed + Hosted + Domain Set-Up
Design and set-up fee + CMS Hosting (dependent on Client Brief)
Search engine optimisation (SEO)
Powerful business CMS hosting
No Additional Transaction Fees.
Detailed website statistics
eCommerce Features Including:
Fully Integrated Shopping Cart and Secure Checkout
Complete Mobile Store and Checkout
Powerful Filtered Product Search
Sell Digital Goods, Physical Products , Services and More
Search Engine Optimised Online Store
Flexible Delivery Options
Fine-Grained Tax Controls
Track Your Inventory
Process and Manage Orders
Drive Sales with Coupon Codes & Discounts
2. For Medium to Large Sellers:
We will create a powerful and great looking Ecommerce site. Hosting with a CMS platform is included with a monthly fee. A CMS means you get many great features and you can easily add, edit and organise products, pages, view orders and more with the easy to use interface.
The monthly hosting and service price and features depend on the package, see below.
Designed + Hosted + Domain Set-Up
Design and set-up fee + hosting fee (see below)
You get unlimited bandwidth and storage
In-house card payments system with low rates, fraud analysis tools and no transaction fees
Search engine optimisation (SEO)
Powerful CMS hosting included
Free SSL security cerificate
Detailed traffic stats
Features Including: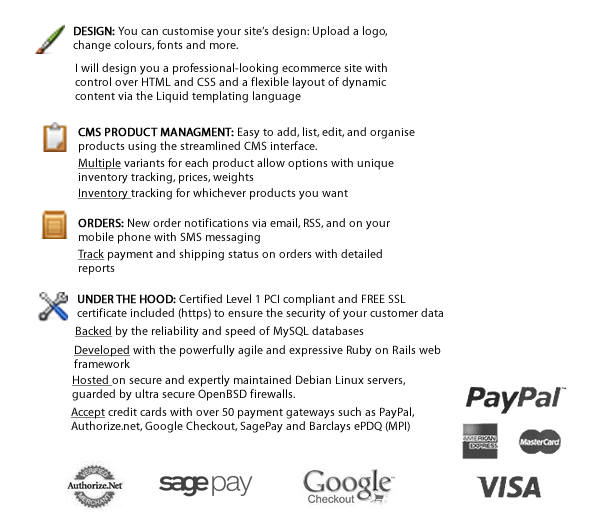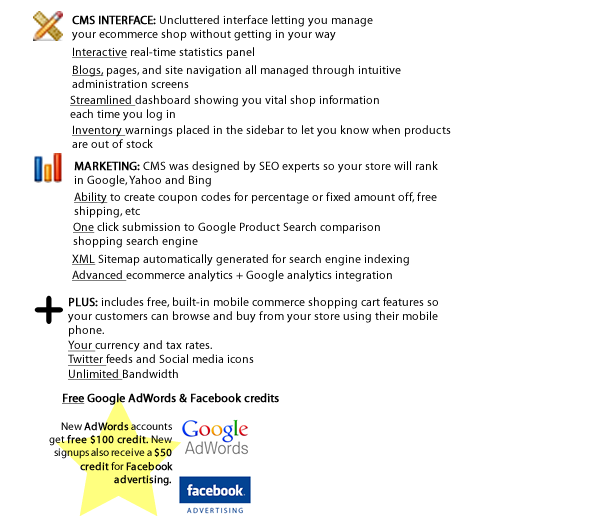 choose your
hosting plan:
In-house payment gateway credit card rate

Real-time carrier shipping
Please contact us with your exact requirements, e.g pages, products and goals for an accurate price.
Tags: Web Design, Web Designer, Bradford, West Yorkshire, Leeds, eCommerce website, shopping, payment site, sell online